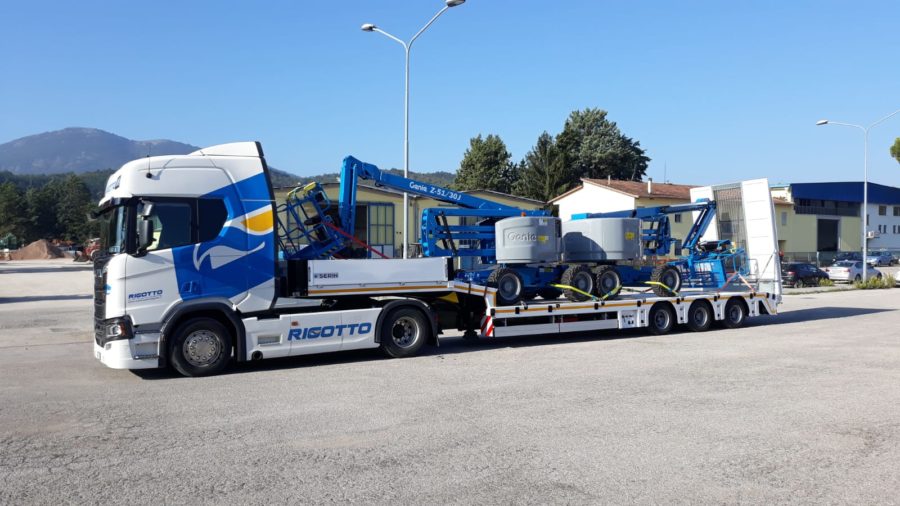 Our trucks are all signed Scania, a brand that represent a guarantee for us.
The company takes particular care of its fleet, which is regularly controlled according to maintenance contracts given directly by the factory. Our trucks are kept in an excellent condition and are cyclically renewed. In this way, we can always count on functional, safe and efficient trucks, and maintain vehicles that are at the cutting edge. This means that our trucks produce very low CO2, emissions, being almost all equipped with euro 6 engines.
All our vehicles are featured with equipment that allows them to be loaded from above to transport particularly heavy cargo.
Thanks to devoted software, Scania Fleet Management, we are able to track and trace all our vehicles, therefore being able to receive instant information about their time of arrival. These elements allow us to provide an excellent service upon our customer's requests.
Useful information for the cargo
Length: 13,61 m
Width: 2,48 m
Height: 2,70 m
Places: 33 colli
Payload: 295 q.li
Useful information for the cargo
Length: 14,40 m
Width: 2,48 m
Height: 2,70 m
Places: 34 colli
Payload: 290 q.li
(with hydraulic tail lift)
Useful information for the cargo
Length: 9,60 m
Width: 2,48 m
Height: 2,70 m
Places: 22 colli
Payload: 135 q.li
Address
Via Gianfranco Fedrigoni, 14
38062 Arco (TN)
Contacts
Tel. 0464/514005 | Fax. 0464/515448
Cell: +39 335/5445049